Howdy Everyone!
This morning's post is a bit late because I got a surprise mini vacay to Knoxville this weekend to see my lovely Daughter Rena! So I stepped away from the drawing desk, shut down the computer and took off! Mark surprised me with a lovely getaway and I was not gonna waste it! I don't get to see my little (all grown up) girl very often and I was simply overjoyed! We shopped, tried some lovely chocolates, shopped some more, visited Market Square and shopped some more, had a few cocktails, shopped and ate some more and spent a lovely weekend together.....I had the best weekend and I owe it all to Mark! So, yep, this post is a little late, but I am sure that you all understand!
Now, I won't keep you waiting on your freebie!
Here it is:
Doves and Heart Frame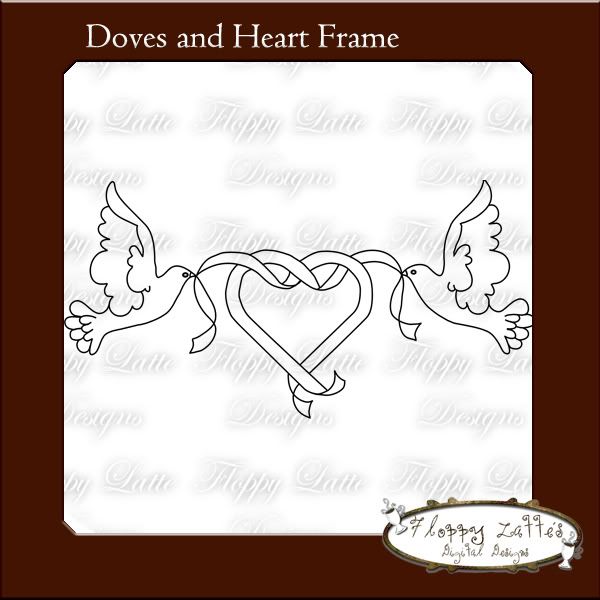 A pretty set of Doves tying up a heart with ribbons! This would make a lovely card front for that special Valentine's Day Card! You can get Doves and Heart Frame for FREE until Tuesday at Midnight! After that it will be $2.00.
Now I did not forget a BOGO special either! I thought, since Valentine's Day is fast approaching, I would do a BOGO on a Valentine's Day Image! This week the Buy 3 Get 1 is
"Won't You Be My Valentine"
All you need to do to get this lovely little guy for free is put 3 digi stamps/paper packs in your shopping cart that total $7.00 or more, then ADD "
Wont You Be My Valentine
" to your cart and enter BOGO in the redemption box at checkout, and the price of "
Won't You Be My Valentine
" will be deducted from your cart! This cute little fellow will also make a lovely Valentines Day Card front, or a beautiful addition to a tag or bag topper!
Now, I haven't added any new products over the weekend but rest assured they are coming, as soon as today, and the new Mid Week release on Thursday (or Wednesday if I get done early) !
I have also added a little slide show to the top of my blog to preview all the new releases, and this will change weekly as I add new products. As always, you can check out the
New Products
section of my shop to get the low down on all the new products I have added this month! I did put up some cute toy stamps that are simply darling!
Well, I got a ton of stuff to do, draw, clean, wash, work on, and what not so Im gonna keep it short and sweet! Look for another post shortly on the adventure in Knoxville!
Until then,
Catch you on the Flip,