Hi everyone! Welcome to another Manic Monday! Yes it is manic....I have tons of work to do and I have a stinkin' nasty cold! Yuk Yuk Yuk! Sneeze, cough, sneeze some more! Anywho! Had a great week last week and when I popped into my blog today, I see that I have 132 followers! How sweet! So I guess it is time to have a drawing. If I can get to 150 followers by Sunday, I will do a random . org drawing and give away a $25.00 coupon to my store. Tell all your friends! And as a bonus, if I hit 175 I will add an additional $25.00 coupon! and for each 25 after that, I will roll out another $25 coupon. I just love having little contests! And remember, the January Crafting with Floppy is open. Just send in your pics of projects created with anything from Floppy Latte's Digital Designs and you are entered into the contest for a $15 coupon to my store. I love to show off other's work, and you ladies are some of the most talented I have seen!
Ok, yeah, yeah, I get it......Manic Monday....sorry I get a little long winded sometimes. For this week's offering, I present to you "Funky Floral II" There is a series of 5 of these nifty, different, floral type digis. They remind me of henna tattoos, or artwork you might see in India on a vase or tapestry! I love to do them and I hope you will love to use them! So without further Ado......
Here is
Funky Floral II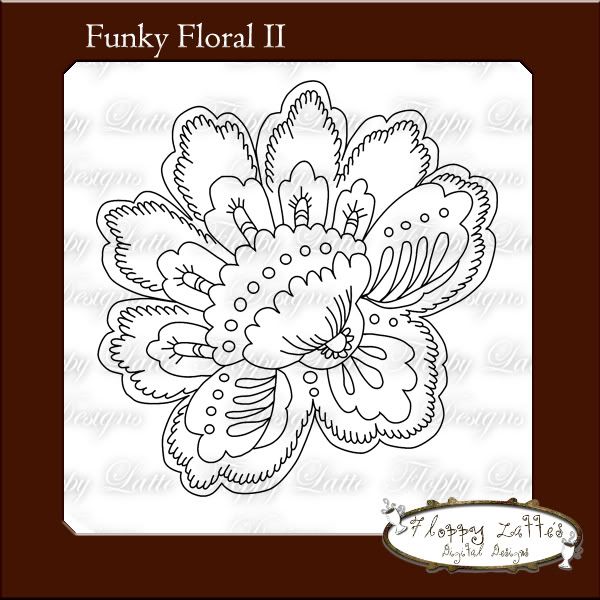 Funky Floral II will be Free until tomorrow! After that they will go to $3.00. So hop on over to
Floppy Latte's Digital Designs
and grab yours! And while you are there check out the
New Products
! I am previewing here the rest of the Funky Floral Series!
Funky Floral III
And Stef aka Glitterbabe, was a busy little bee and created these two lovely cards using Funky Floral III, (one using the entire image, and one using just the center!)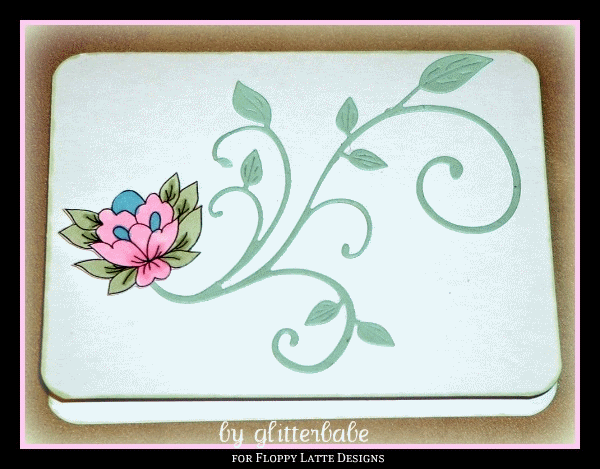 Funky Floral IV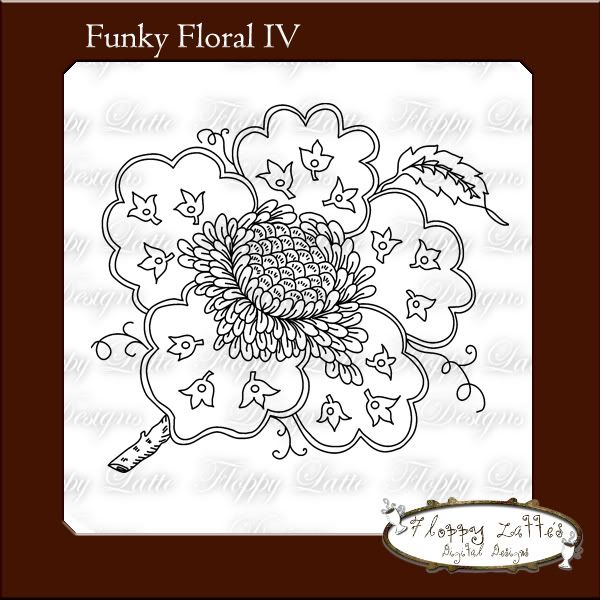 Funky Floral V
(yep the graphic says II but it is V, sometimes my template has a mind of its own, kinda like my little doggie, who by the way is STILL taking over the suitcase!)
Remember, all the links should be clickable, but if Blogger is acting up, just head over to the
store
and look over the
New Products
and you will find them all there! All of my products are also available at
StitchyBear Digital Stamps
! (we have a great group of creators over there as well! It is surely a one-stop shop!)
*******NOTE*********
Last week, I received several emails concerning coupon use. Zen Cart (what I use) will only allow one coupon to be used per purchase. So if you have a coupon, and want to use the BOGO coupon too, it won't let you. Depending on what you are buying and how you are buying, your regular coupon may be a better deal for you than the BOGO. On the other hand, if you are only getting 4 stamps and you have a 25$ coupon and your total is only 9 bucks, you will end up losing 16$ of your coupon, so take a sec and figure out which is the best way to go.....and if you need too, please email me using the link on the upper left hand of the sidebar and I will help you get it all sorted out! I just want you all to get the most for your dollar!
********END NOTE*******
Now, I am going to be starting a Mid Week (sort of ) release show. I am getting so much done that I need to release new product twice a week! How cool is that! So on Thursday of Next Week, I will be starting the Mid Week Release show. But for this week, here are three new products that are hitting the shop shelves today as well.
Floral Monogram Frame I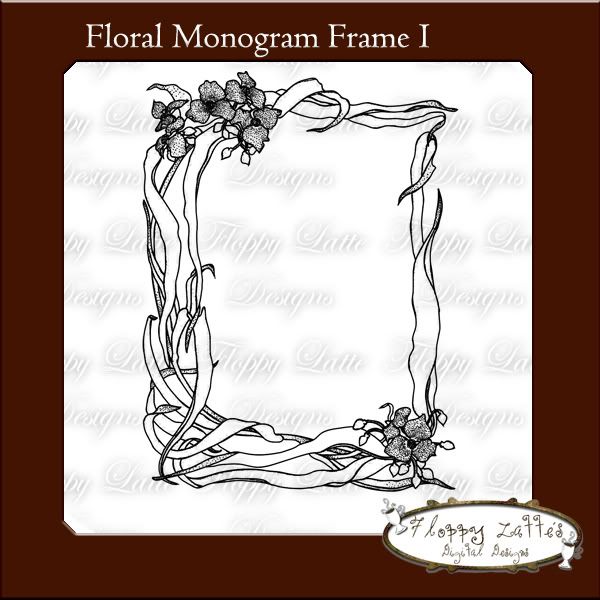 Floral Monogram Frame II
And Glitterbabe is at it again! How lovely is this card for a Special Friend!
Fanciful Bouquet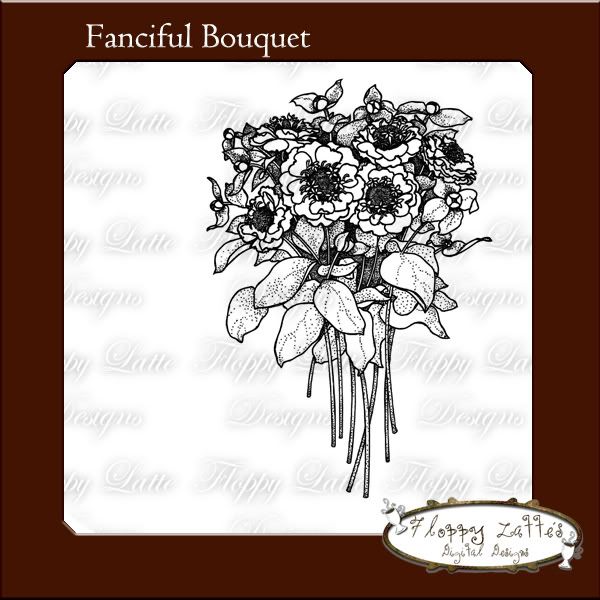 Again, the links are clickable, but if Blogger is being a booger, they will also be in the
New Products
section in the
store
.
B3G1
Okies, the BOGO for this week is...........
oh I just gotta .....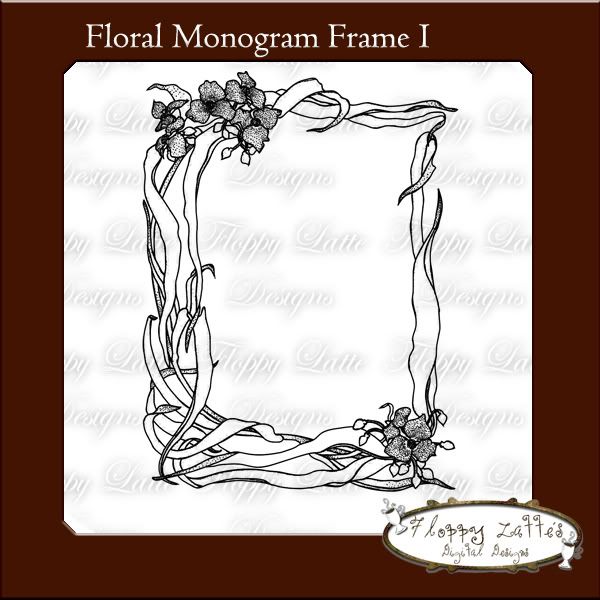 - normally this stamp is $4.00, but this week, Im gonna BOGO it!
Remember, you must have at least 3 digi stamps and/or paper paks in your cart that total $7.00 or more, then ADD Floral Monogram Frame I to your basket, and Enter BOGO in the redemption box at check out.
The $4.00 price of Floral Monogram Frame I will be reduced to $0. I don't usually do a BOGO on a brand new release, but I just like this one so much!
I don't have any entries into this months Crafting with Floppy Drawing so I will hold the spot for next week! I know after the holidays, we are all still quite busy!
Well, that is all I have for today! Looking forward to a good drawing week! As always, the comments you ladies leave simply make my day! I want to thank you all for your kind words of encouragement last week on my Zumba section! I did go this week, even though I have a cold, cause I just don't feel good about myself if I don't go....so I go, I go, off to Zumba I go!
Until Next Monday,
Catch you on the Flip,