"Last day for the 50% off Sale!"
Good Morning Everyone. I realize this post is like 7 hours late in coming out but the Super Bowl created Casualties in the Gill/McKnight Household! Put it like this Mark/Recliner 1 Me 0! After a great meal, good company and lots of fun, it was time to sit down and watch the game. I decided to share the recliner with Sir Markus. (Actually, he invited me to share.....how very gentlemanly of him! He is like that you know!) Well, I perched my happy self on the arm of the recliner which is very cushy, and proceeded to watch the game! The play towards the end was what got me! The inbound sideline play to be more exact! Well, I threw up my hands, yelled "YAY!" and promptly fell sideways off the recliner arm and smacked the floor sharply with my left shoulder (which has been previously injured in the "Great JetSki Debacle!" Now I can't lift my arm much higher than my desk and have to rest it on a pillow! Oh what a great way to start the day! So, now I have to modify my workout schedule, look like a contortionist to put my shirts on, and forget about scratching my ear with my left hand! Ive resorted to putting the laptop in my lap to type so I don't have to move the shoulder too much! There, that is my idiot move for the week......No more recliner arm sitting for me for a while! Mark will just have to come over to the couch and sit with me!
Onward! I did manage to get a few things done over the past week (month end closing at my job and that is a nightmare, I can tell you!) And...Im making a change to the B3G1, it will now be buyer's choice and permanent! Ill go into that at the end of this post!
Now on to the Manic Monday Freebie!
This week, I got the notion to do some Fish, Pretty Artsy Koi Fish. So Koi I is your Manic Monday Freebie! And because my post it late, you will be able to grab this freebie until Tuesday Night at 11:59 p.m.EST (for those of you on the west coast, I think that would be 8 or 9 pm for you. )
Koi I
Pretty!
Price: $3.00 after Tuesday at 11:59 pm EST!
Now on to the other new products....And remember, today is the last day of the 50% off sale and all the new products are included!
More Koi
Koi II
I really like this one!
Price: $3.00
Un Grappola d'Uva (A Bunch of Grapes)
Perfect for kitchen wall art, recipe books, wine bottle labels and so much more!
Price: $ 2.50
And for you nature/bird fanciers,
Three Birds in a Tree
Stef, one of my lovely product designers put together this lovely sample using Three Birds in a Tree!
Stef, this is Lovely Lovely!
For this image, you will receive 2 different types of file sets: 1 with no shading, only line work, and 2, a set with subtle shading, if you prefer to use that. You get both sets with purchase.
Price: $ 3.00
Now on to some goodies for the Men!
We have Ship Silhouettes! Im showing the 6 pack here, but they are also available as individual stamps as well!
Ship Silhouettes 6 Pack
Again, Stef has outdone herself with this Sample from the Ships Silhouettes!
I love the way the star came out! Fantastic job Stef!
Great for those Manly Cards!
Price: $ 8.00 (a $.400 savings over buying them individually and right now the pack is on sale for $4.00 so that is a real SAVINGS!)
Now on to some other great Product Samples from the ever so talented Stef and Susan!
Funky Flower: Susan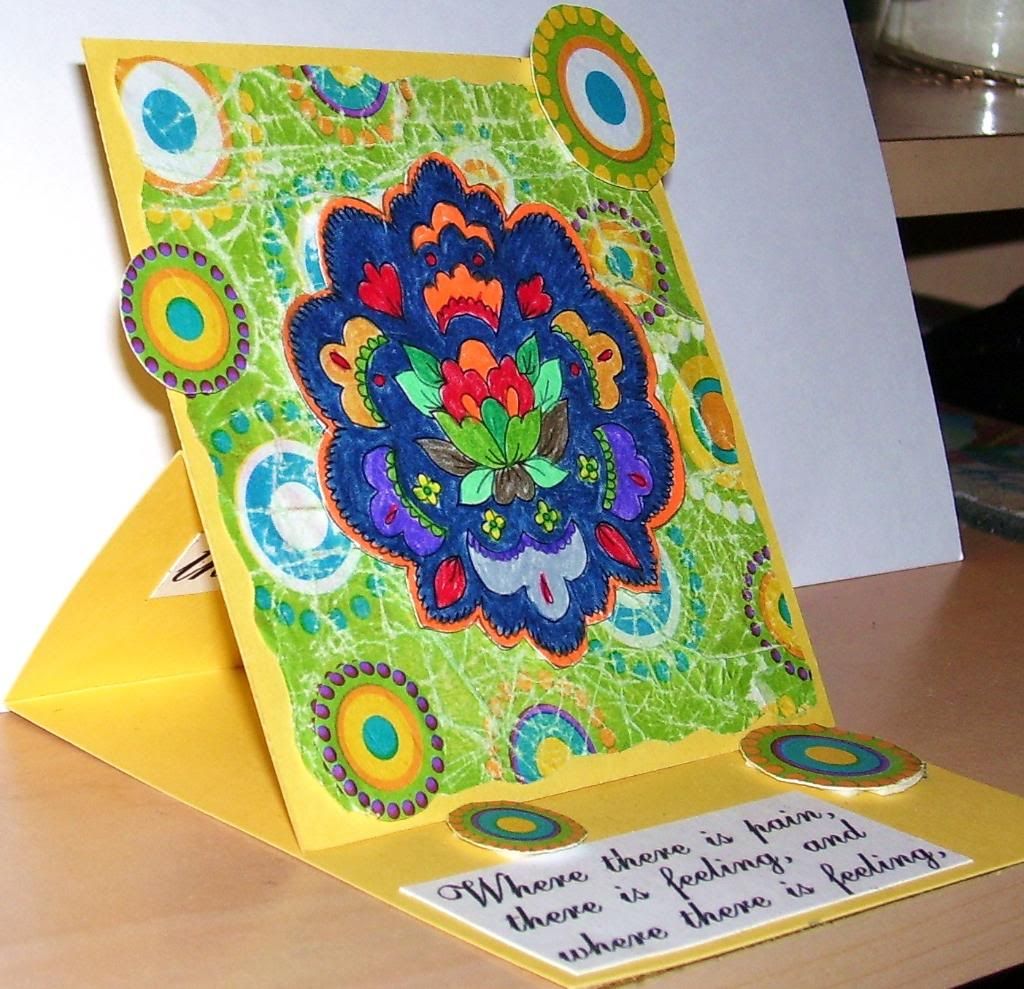 I love easle cards but have yet to attempt one! Love the funky colors and papers Susan used here! Great Job Susan!
Two Hearts!
Stef has done it again!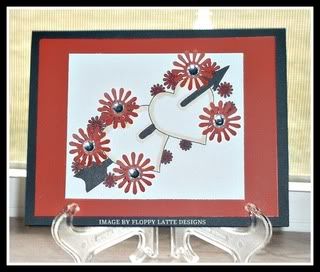 Stef does a fantastic job, as shown here! Love the shading and the bling in the center of the flowers!
How bout a Kiss?
Ummm,,,,OK!
Stef used part of an image from my Valentines Day Roundies 4 pack for this lovely embossed card! What a great Valentine's Day card to get! Fabby Card Stef!
Butterfly!
Remember the butterflies that came out last week? Well Stef worked her butterfly magic on this card!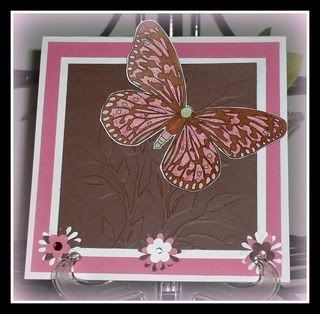 I love the color scheme here! I think this would make a great Valentine's Day Card, reminds me of Love and Chocolate! Thanks Stef, for helping my diet along!
And for those of you who know someone who is expecting a baby, wouldn't this make a nice card for the parents to be!
I really like this one, with its soft colors, swiss dots and pretty ribbon! Stef, you are one crafty Diva!
If you all get a chance, please stop by
Stef
and
Susans
Blogs and say hello! They would love to hear from you. Also, Susan is having a
Blogoversary
! It is her second year blogging! She has a lot of fantastic prizes for her followers! Please pop over, visit, follow, and see what all Susan has been up to in the last two years! I know you will find it interesting and entertaining, and possibly win some great prizes!
Now for a little funny.....At Mark's Expense....and I did ask permission before I posted this!
The Cookie Monster.
Once upon a time there lived a handsome fellow....We will call him Sir Markus. Sir Markus was not the most tech savvy handsome fellow in the world. Now Sir Markus was having a bit of a problem with his computer running slowly, and a young damsel, (and I did not ask what her name was) proceeded to assist him in finding the problem.......
Damsel: What's the problem?
Sir Markus: My computer is soooo slow.
Damsel: Do you have Cookies?
Sir Markus: Yeah, I have cookies in the cabinet in the kitchen.
Damsel: No, do you have cookies in your computer?
Sir Markus: No, I didn't eat any cookies at the computer.
Damsel: No, your computer has cookies.
Sir Markus: No, there are no cookies at my computer and I haven't eaten any cookies at my computer....are you sure you are on the right planet?
Damsel: No, your computer has cookies.....little tags in its cache. (Damsel says this with a look of utter dismay at the fact that the handsome man has no idea what she is talking about..)
Sir Markus: Blank Look
Damsel: Cleans out the cookies from the computer.
Sir Markus: Well, the computer runs faster now.
Damsel: Never heard from again.
True story
*******************************************************************************
Now
, remember the
B3G1
special every week? Well, thanks to my little survey and my lovely customer's participation in the
B3G1
, I have decided to make it a customer choice each and every day. And this is how it will work. There is still a $7.00 minimum order. And the
BOGO
coupon code stays the same. What changes is when you put the $7.00 of stamps in your cart, you then pick one more stamp of your choice, enter the coupon code and $3.00 will be deducted from your order. Because most of my stamps are $3.00 or less, sometimes you will even get a bonus of a little extra off another stamp. I thought this was the best way to do this since it is going to be available all the time, and you can
BOGO
as much as you want! Please note: my shopping cart only allows one coupon to be used per order, so if you have a higher value coupon, weigh your options so that you can get the best deal. If you are not sure, please please email me and I will help you sort it all out! As I find better and better ways to offer this, I may modify it from time to time to give you all a better shopping experience so be sure to stay tuned so that you can get all the lowdown on the new stuff!
*******************************************************************************
Well, that is about all for today! Im going to try to draw some more today, but with this shoulder, it isn't looking good! But rest assured, I will get you more new goodies this week!
I hope you all have a great Manic Monday and even better rest of the week!
Catch you on the Flip,