Howdy All! It is that time again, MANIC MONDAY! Woo Hoo....Whew! Im a bit stiff in the shoulder today and that has held me up a bit. I had hoped to have all of the new Floral Cap Nouveau Monograms in by today, but alas, sadly I only got to the Letter K! But never fear, the rest are on the way!
I have a new sale this week, and it is a Progressive Sale. This is how it works: If you spend $5 you get 25% off of your total order, spend $10, you get 35%, spend $15, you get 40%, and if you spend $20 or more, you get a whopping 45% off your total order. Your discount will show when you proceed to the checkout, after you have logged it.
AND
, you can use your
BOGO
coupon, as long as you meet the
$7.00, 4 stamp minimum.
So you save even more! And the monograms are included.
I have a bit of eye candy for you this week! Stef and Susan have been busy preparing for my article in
Papers and Pixels Magazine
, (link on the sidebar to the left for any of you wishing to subscribe!) coming out on April 15th! I thought I would share a little sneak peak of some of their creations that would be featured in the Magazine! You can also see their work in my
NEW Inspiration Avenue
at my
shop
.
So Let's Roll!:
My Bouquet Image by Susan Guzy
Tulips by Susan Guzy: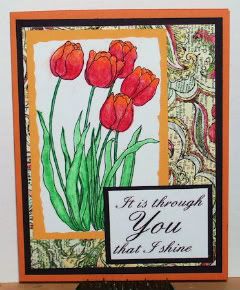 Mothers Day, also by Susan Guzy:
Butterfly in Grass by Stef Hughes:
A Pretty Sprig of Flowers by Stef Hughs (this is a new one and is not in the Magazine, but it is so super lovely, I just had to put it in here!) Stef, you rock as usual!
Tiger Lillies by Stef Hughes: Another New Card from the Fantabulous Stef aka Glitterbabe!
Now these ladies will be featured along with me in the April 15th edition of Papers and Pixels Magazine, because without them, I would be floundering in a sea of glitter, glue, and markers! (and that would not be pretty!) I must say THANK YOU LADIES, for the wonderful work that you do!
Now that I have mentioned
Papers and Pixels
, again, I want to tease you just a bit! Along with a lovely article on yours truly, where you will learn a few little known facts (hmmmmm,) about me, for those of you that subscribe, and read the ad's there is a great coupon available to you! Also, there is going to be a BIG announcement made concerning the Shop at Papers and Pixels, and I will have a freebie in the magazine, available only to subscribers. No, I don't recieve anything if you subscribe, but what you will get is amazing. For the Bargin Basement Price of $1.00 per issue, if you take an entire year subscription, or for an equally amazing $1.50 per single issue, not only will you get great tutorials, articles, information, coupons (hint hint hint), the freebies alone are worth at least 3x the purchase price of an issue. At at least 100 pages of great material is at your fingertips! Plus there is a great Blog and Forums available to you at Papers and Pixels! AND the lovely Laura, Editor in Chief, does some simply stunning work with my images! I'm telling you ladies, it is worth each and every penny! AND, if you do subscribe, and
email me with proof of subscription
, ohhhh, Ill send you a nice discount coupon to my shop for oh, let's say
50% off a single order
at my
shop
.
How does that grab you! Plus there are sneak peeks for 5 days before the magazine comes out, and there may be some great goodies and coupons there as well. It is the best bargain going for this Magazine! I don't know how I ever missed it, but I tell you, I will NOT miss another issue! Now Just to be Perfectly Clear, I recieve nothing for telling you all this. I just think this magazine is such a great read, great deal, great all around, and I would be telling you this whether or not I was going to be in the magazine or not. Ok, off the soapbox, for now LOL!
Now, let me give you some previews of the newest Floral Cap Nouveau Monograms that I added this morning!
Here we go!
All of the Floral Cap Nouveau Monograms are priced at $3.00 each and can be found in the
Floral Cap Nouveau
Category or in
New Products
at my
shop
.
Now, what day was it again? OHHHH YEAH! MANIC MONDAY!
Being that is is the 2nd of April, and I didn't do any drawings except the Monograms, how about a readers choice coupon:
MMAPRIL2RC
Good for $3.00 on a stamp in the shop! Pick the one you like, enter the code above and have a Happy Manic Monday on Floppy Latte! How does that work for ya! I love to do Readers Choice once a month.....why? Cause you all love it, and I love it when you all love it! And because I am Floppy Latte and I can!
Now usually, I have a good funny for you all, but my funny is running low today, and Mark hurt his wrist at work, which was not a funny story so I have been worried about that. But I can give you a little snippet I like to call: Selective Hearing! I do hope you enjoy!
SELECTIVE HEARING:
Whilst we were shopping at the grocery store, some years back, I thought it would be a good idea to split the grocery list so that we could get done a little faster. Was not a good idea, but it was good for one confused look and a giggle. Here is how it went!
Me: Mark, I am going to get some Cool Whip and stuff out of the freezer case.
Mark: Ok. (he is a simple guy LOL, gotta love that)
Me: Would you go get some eggs, milk and butter.
Mark: They don't have boat motors here, we will have to go to Wal Mart for that.
Me: (sporting one really big confused look, because we don't even own a boat)
Mark: What?
Me: (still sporting that confused look while trying to stifle a giggle in the produce section)
Mark: What is so funny? (again, a simple question)
Me: (with the straighest face I can muster) Can you get some E-G-G-S, M-I-L-K, and B-U-T-T-E-R.
Mark: Ohhhhh OK, now that makes more sense. I was thinking you had lost your mind.
Me: (thinking maybe I had!)
Mark: trots off to get the requested Items
Me: Still standing by the freezer section shaking my head and wondering where all the training went wrong. Was it not enough treats? I don't know......I still don't know.
Ok thats that!
I have another great grocery store funny for you next week....This time in Wal Mart. But you have to wait til Monday next to hear that one.
I do hope you have enjoyed today's ramblings, eye candy, and other what nots!
Im off to try to draw some more, and I may have a piece of art to show you later in the week! I finally colored one of my own images! Woot! Look out Stef and Susan, you may have created a monster.....probably not, but I can dream can't I!
Catch you on the Flip,